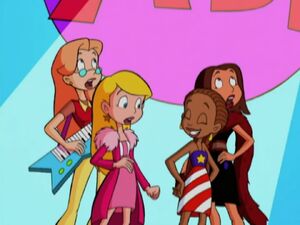 Witchy Grrrls is the 14th episode of Sabrina the Animated Series.
After forming a girls-only bubblegum pop band called Flavor Babes and losing to Gem in the talent show (she lip sync and mostly because none of them have any musical talent) Sabrina and her aunts (along with Chloe) use magic that makes them into world famous musicians. However this could cause them to break up.
The Flavor Babes are a parody of The Spice Girls.
Weird Al appears as himself as he wrote a parody of "What's your favor" called "Electric Shaver".
Ad blocker interference detected!
Wikia is a free-to-use site that makes money from advertising. We have a modified experience for viewers using ad blockers

Wikia is not accessible if you've made further modifications. Remove the custom ad blocker rule(s) and the page will load as expected.