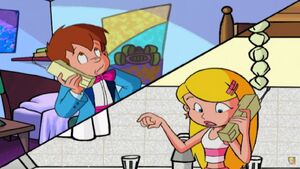 The Grandparent Trap is the 20th episode of Sabrina the Animated Series.
Sabrina is determined to prevent her grandparents from arguing when they visit the house for an important announcement.
The episode's title is a take on the 1961 Disney film, The Parent Trap. It was remade later in 1998 in which Lindsay Lohan played a dual role.
This marks the only appearance of Sabrina's grandparents. They are not seen again after this episode.
Ad blocker interference detected!
Wikia is a free-to-use site that makes money from advertising. We have a modified experience for viewers using ad blockers

Wikia is not accessible if you've made further modifications. Remove the custom ad blocker rule(s) and the page will load as expected.